I love perfumes that get you into a specific mood as soon as you smell them. There is an element of magic in the fact that your sense of smell can instantly transport you into a distant place, existing or not, that you can freely change according to your liking. It's your imagination after all. The perfume that I want to tell you about today is a composition that takes me on an evening trip to a club where they play live jazz. Imagine a spacious interior with dimmed lights filled with a bit of smoke. Old wooden tables and leathery seats nibbed by a tooth of time, they might seem a bit obscure but its them that are a true soul of the place. The atmosphere in here is undeniable.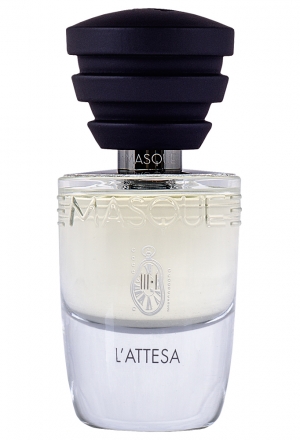 One moment music stops to play, bands are about to change. Next minute a woman appears on stage. Wearing a gray blouse and a leather jacket she looks casually. The moment first music notes start to gently flow from the speaker and when she starts to sing the entire club reacts. Everyone turns their eyes on her. Woman's voice, like a healing balm, mesmerized everyone who gathered there to enjoy the evening. For them it was like time was standing still. As written in press release – The soft lights seem to fondle the wrinkled sound of the old vinyl disc, and play hide-and-seek in the warm embrace of the jazz singer's voice. All is set for the rendezvous. Are you ready?
Masque continues to develop original fragrance creations with assistance of young, budding perfumers. This year they have launched L'Attesa (Italian word meaning – the wait) which was fairly one of my favorite things that I tried at Esxence back in April. This fragrance opens on my skin with a glimpse of damp earthiness that lasts for maybe 1 or 2 minutes before it fades down. It is followed by a soft carroty aroma that feels surprisingly rich and uber luxurious. Impression of a carrot in new Masque creation comes from iris & as much as I can have issues with carrot-like iris, this one smells spectacular. I think it's because the phase is not really long and as soon as it begins, this iris already evolves into something more woody. Earthy and woody facets entwine. In the meantime a delicious buttery vibe emerges. It's slightly fatty, oily, with a delicate sweetness hiding underneath it.
Buttery iris feels incredibly sensual, enticing and moreover, it is one of the most luxurious iris notes I have tried lately. In style L'Attesa reminds me a little bit of Prada Infusion d'Iris Absolue. With a difference that Masque take on iris is much more substantive and longer lasting. After half an hour the perfume becomes heavier and leather notes are being introduced. Not since today we know that iris and leather go well together and this time there's no exception. Cuir note in the perfume has a strong presence at the same time giving a very refined and soft aroma. Definitely not a horse saddle leather but more like leather gloves. Masque L'Attesa induces a cuddly mood any time I smell it.
As the fragrance develops and more notes join the composition, the perfume gains complexity and dimension without becoming overdone. First of the greater contributors to the great way L'Attesa smells is sandalwood. It feels luxurious – luminous, smooth, even slightly milky. But don't be mistaken, this fragrance also has some dark elements about it. For example oakmoss – with its dry, shrub like scent and dusty facet it does feel more nocturnal. I think that dimmed lights mentioned earlier are a good way to describe this fragrance too. Masque newest offering also doesn't disappoint when it comes to perfumer creativity. It contais a very weird ingredient that gave an outstanding effect. You would probably never guess it could smell like that.
While creating L'Attesa for Masque Fragranze the perfumer decided to experiment with a CO2 extract of beer! In finished fragrance it gives that very specific, yeast-ish effect that one can associating with opening a bottle of champagne. It's very deep and has a lot of dimension.  This extract truly enhances the quality of orris root in the blend. In addition to that, in a later stage of development, it really does smell like a sparkling champagne. It's bubbly and uplifting in its weirdness. In the drydown phase there are some more floral tones again. There is a lovely neroli essence combined with ylang-ylang and tuberose. When they are mixed together they give quite a creamy effect on skin. Final touch is a splash of zesty bergamot rind.
L'Attesa by Masque Fragranze is the fact that duet of iris and leather is present on my skin throughout the entire evolution process and I can enjoy smelling it at any time I want. This perfume is a magnificent interpretation of iris. Any fragrance aficionado who share the same love for iris as the one I have – let me speak to you directly here for a second – you must try this one, trust me. Developed by Luca Maffei, who is quickly becoming a shining star among younger generation of perfumers, L'Attesa delivers quality and unforgettable olfactive experience. It's sillage is moderate and it manages to survive on skin through the day, although after 6 hours you can really smell it only from a close distance. L'Attesa is an eau de parfum and comes in new, 35 ml bottle.